Hey bloggers!
I hit quite a few stores today in search of back to school deals...I went to Target x2, Deals, Big Lots, Staples, Michaels, and Barnes & Noble! And yes, you read that correctly, I went to two different Targets.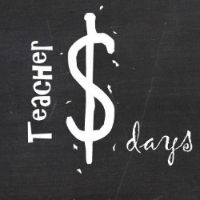 First up, my Target purchases! I was at Target yesterday and noticed that most of the dollar spot baskets were empty and the tags were all school items...so I knew I had to head back today!
Here's what I found, in a few different pics:
-Rainbow Border
-Alphabet Bingo
-Kid Bulletin Board Accents
-Flashcards (shapes & colors, numbers 1-20, rhyming, same & different, busy people)
-Alphabet Puzzle
-Number Puzzle
-Pencils
-Colorful Pails (love these things!)
-Google Eyes
-Pom Poms
-Shout Wipes
-Magnet Clips
-Command Sticky Strips
-Push Pins (cube & pyramid shapes)
-Hand Bulletin Board Accents
-3 Rolls of Tape
-Lots of books!
Tons of Dr. Seuss Stuff!
-3 pairs of socks (for when we do our Dr. Seuss theme week)
-2 Different Packs of Bookmarks
-Stickers
-2 Different Packs of Erasers
-2 Different Packs of Bulletin Board Accents
-Packs of Crayons
-Pencils
I'm thinking I'll use quite a bit of this Dr. Seuss stuff as back to school "Welcome Kits" for the kids! Check back for more details about that later...
All of that was from the Target Dollar Spot! I love Target.
Next up, I went to Staples.
-Foam Alphabet Puzzles ($1 each)
-Packs of Pens (1 cent each)
-Packs of Erasers (1 cent each)
Awesome deals! :)
Then I went to Michaels!
They also had tons of Dr. Seuss stuff! The last few years I have really wanted a Dr. Seuss pointer for my smartboard, but every time I went they were always sold out! Well, I finally got one this year :) Plus I also got some more fancy tape (yes, it's called duck tape...it's a brand from duct tape). The tape was on sale 2/$6.
Next was the teacher supply store in my area (The School House).
Since I'm going with the safari/jungle theme this year, I look at the alphabet sets each time I'm in there. I need a set or two for the title on my hallway bulletin board. Well, when I saw these prepunched letters, I was sold! This will be so much easier!! (I'm constantly tearing letters when I punch them out.)
I also bought a few books at Barnes & Noble...but I'll blog separately about them later! I'm really excited about using them for Reader's Workshop & Writer's Workshop! :)
Thanks for stopping by!