Hey bloggers!
I'm joining in with
A Teacher Without a Class
for her Dollar Days linky! Finding cheap things for the classroom is a hobby of mine :)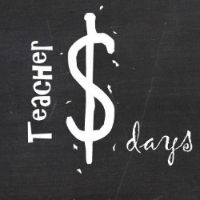 Here's what I found today!
1. At the top are the large foam dice! We use dice A LOT in the classroom! So when I saw these big foam ones, I knew the kids would love them and I knew that I had to have them! (They were $1 for a set of 2 at Deals.)
2. Next, I found some National Geographic Kids books! I'm always looking for nonfiction books that the kids will like and I think these will do the trick! Here's a few sample facts for you..."Almost 90% of snow is air", "Girls have more taste buds than boys do" & "Star Wars creators designed Yoda to look like Albert Einstein." (Again, I found these for $1 each at Deals.)
3. The last thing I found was the sentence building game. A quick & easy activity to pull out for a center or recess activity. As you can see, it was normally $5 and on sale for $1! Woohoo! (This was also purchased at Deals.)
So there you have my dollar finds!
Have you found anything awesome for a dollar recently??
Ps-Don't forget about my GIVEAWAY going on right now! 2 lucky winners will get to choose 2 items from my TpT store for free! {
Click here for giveaway
}